'Science for Development' is an annual virtual showcase at the BT Young Scientist & Technology Exhibition hosted jointly by Self Help Africa and Irish Aid. The webinar series will resume on Wednesday 27th April at 11am, with the first event themed on 'Biological & Ecological Sciences'. Students, science teachers, and scientists are invited to join these events and teachers are welcome to present the webinar in their classrooms via projector. You can register here. 
The panel will feature students at St. Louis Secondary School in Dundalk – Jona Garcia, Claudine Mulihano and Iman Shittu – who won the award in 2022 for their project on a power-free way to preserve food, and final year International Business student at the University of Limerick Jack O'Connor who won the 'Science for Development' award in 2017 for development of an ergonomic planter, which completed a pilot programme with 100 farmers in Malawi in 2021.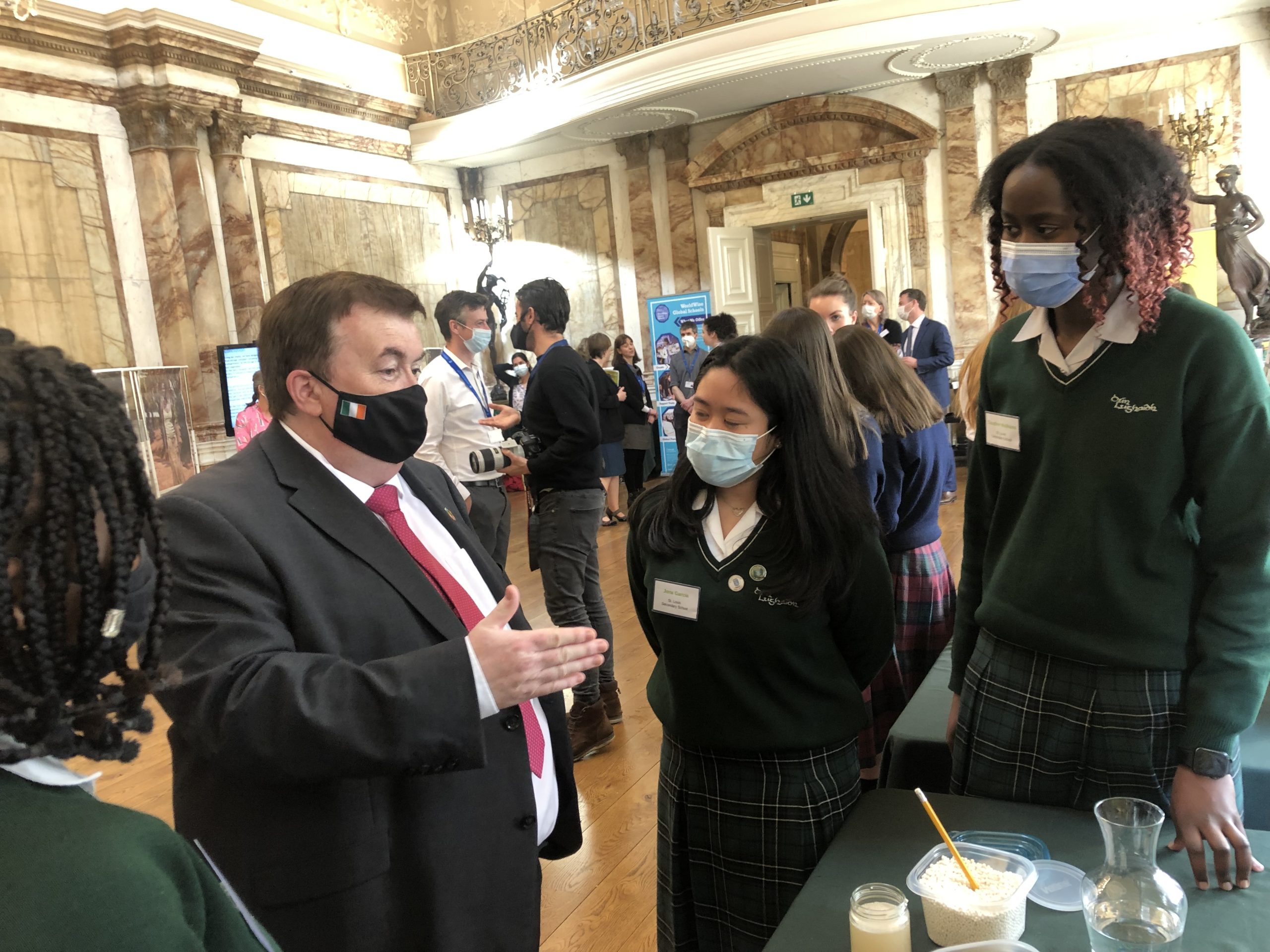 L-R Iman Shittu, Minister for Overseas Development Aid and Diaspora Colm Brophy, Jona Garcia and Claudine Mulihano at the 'Science for Development' showcase in Iveagh House, Wednesday 23rd March 2022
Self Help Africa staff have featured as panellists in these webinars. Panelists in 2021 included Agricultural Adviser Robert Gensi based in Kampala, Uganda, who spoke about resilience and humanitarian development in rural African communities, and Esther Ainyo presented on food production, environmental conservation and adoption of ICT with communities in Teso region.
2022 series
Register:
Wednesday 27th April @ 11 am – Biological & Ecological Sciences
Wednesday 18th May @ 11 am – Chemical, Physical & Mathematical Sciences
Save the date:
Wednesday 28th September @ 11 am – Social & Behavioural Sciences
Wednesday 19th October @ 11 am – Technology
Each event in this series will feature an exhibitor from the 2022 'Science for Development' showcase, as well as past winners of the 'Science for Development' award, guest speakers from science and Self Help Africa programmes. The series endeavours to inspire students to develop project ideas for future Young Scientist exhibitions which benefit communities in the global south, promote climate action, and take steps towards realising sustainable practises and policies. It also hopes to highlight connections between science at post-primary level and potential careers in science.
The 2021 series is available to view in full here.
For more on the 'Science for Development' award sponsored by Irish Aid, you can visit: selfhelpafrica.org/ie/education/science-for-development