Located in the Horn of Africa, Eritrea has a population of 3.6 million, and consists of six regions. Eritrea holds potential for agricultural development, but has faced climate challenges, limiting access to resources such as water and fodder. This has significantly impacted the dairy sector, and the livelihoods of smallholder dairy farmers. Self Help Africa is working to change this.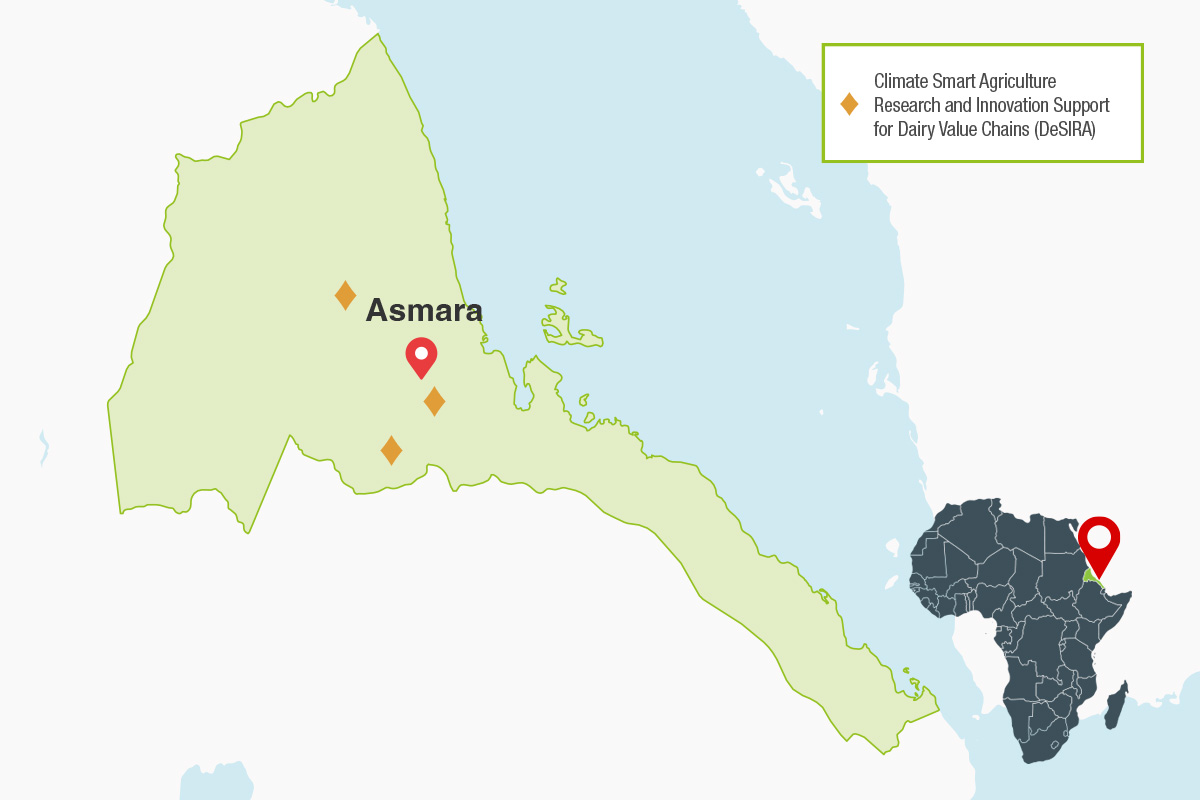 Full Name: The State of Eritrea 
Population: 3.68 million (World Bank Data 2022) 
Capital: Asmara 
Area: 117,600 km² 
Working Languages: Tigrinya, Arabic, English 
Major Religions: Christianity, Islam 
---
---
CLIMATE SMART AGRICULTURE RESEARCH AND INNOVATION SUPPORT FOR DAIRY VALUE CHAINS (DESIRA)
---
In Eritrea, the dairy sector is seriously constrained by fodder and water shortages. This has led to a low-quality national herd, unable to contribute the income and nutritional benefits normally associated with livestock farming.  
This project aims to improve the productivity and profitability of the diary sector, develop dairy value chains in each of the three host Zobas: Debub, Anseba, and Mackel. In doing so, the project aims to increase dairy consumption in Eritrea for nutritional benefits. 
The DeSIRA project has been designed based on the need to bring about an inclusive, sustainable and climate-relevant transformation of the Eritrean dairy value chain. The objective is to enhance food and nutrition security, reduce poverty, and create job opportunities for young people by improving access of the rural poor to innovation and new technologies, and by strengthening the capacity of national innovation support services.

800 producer households (approximately 4,000 people).   
Approximately 50 academic/scientific staff at research and educational institutes.
 1500 Development Agents and 320

Subject Matter Specialists (SMSs)

, of which 20% will be women. 
---
TO CONTACT US ABOUT OUR WORK IN Eritrea:
---
Yeka Subcity, Kebele 08,
House No. 912, P.O. BOx 1204,
Addis Ababa, Ethiopia
Tel.  +251 116 182556 / 251 116 591803 / 116 620659/0116
Email: [email protected]