Despite being Africa's largest oil-producing nation, more than half of the people in Nigeria remain in poverty. Access to clean water and sanitation is one of the biggest challenges across the country. Only around a quarter of people in Nigeria (26.5 per cent) use improved drinking water and sanitation facilities and a large portion of the population (around 19 per cent in 2020) practice open defecation, spreading preventable diseases and contributing to high infant mortality rates.
Full name: Nigeria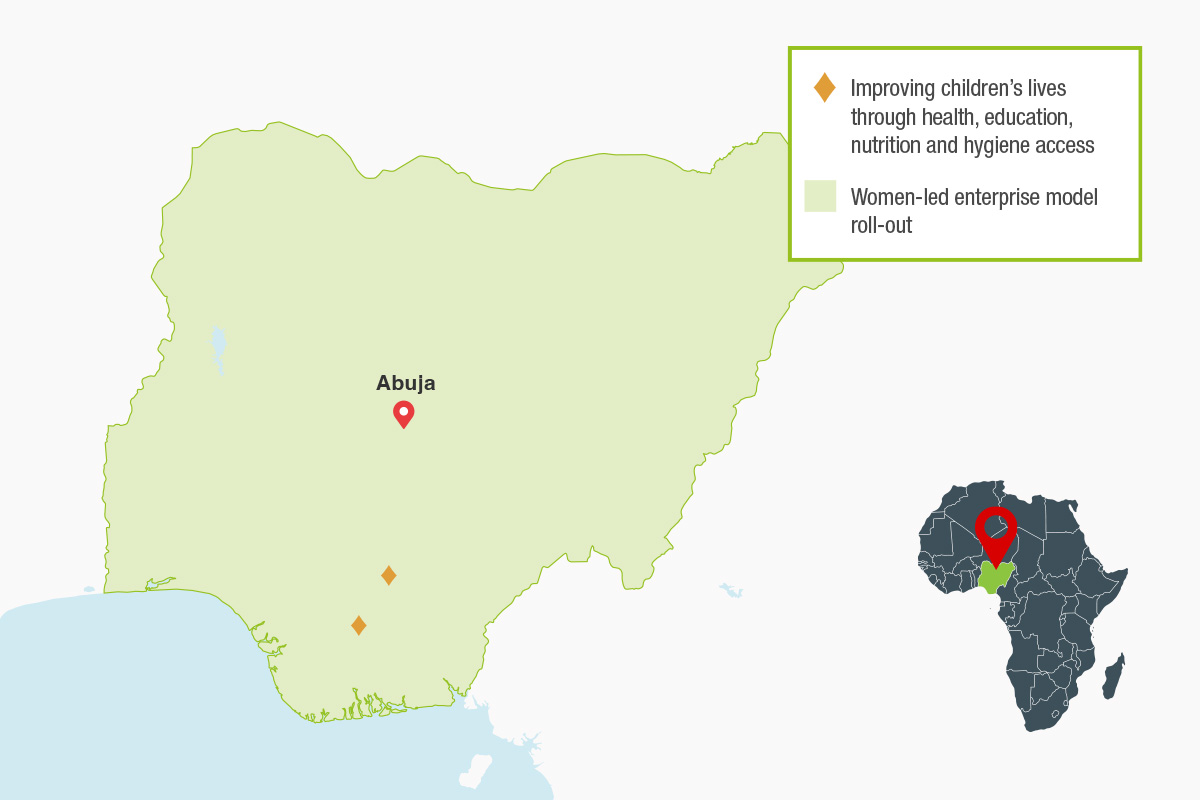 Population: 216.7 million (UNFPA, 2022) 
Capital: Abuja
Area: 923,768 km² 
Major languages: Hausa, Yoruba and English
Major religions: Islam, Christianity
United Purpose, now merged with Self Help Africa, has worked in Nigeria since 1999. Our award-winning water, sanitation and hygiene programmes in the country supported the Government in achieving the country's first open-defecation free local government area. It also showed it was possible to do it, and several other areas have since been declared open-defecation free – boosting the health of communities.  

We also work to empower women and communities to voice their rights, and are applying our growing expertise in marine conservation when working with communities to tackle environmental destruction in Nigeria's depleting mangrove forests. 
Nigeria projects
---
---
Child-friendly Community Initiative (phase 2)
---
United Purpose has been working with local government authorities to set up a child protection and surveillance system. Too many children in these areas are not medically monitored, they are not vaccinated and are sometimes malnourished. They grow up in an unhealthy environment where basic hygiene is lacking.  
 
This project is seeking to strengthen the capacity of local governments and communities in Biase and Yala, Cross River State, to provide basic community services that adopt child-centred attitudes, behaviour and practices that contribute to the overall wellbeing of children. Activities are varied and include registering the birth of children under five, monitoring the growth of children under two, testing the quality of water points, and training youth volunteers to manage digital community information systems, supporting their community integration.
---
---
Scaling Rural Women Entrepreneurs for Community-Led Digital Adaptation & Resilience in Africa
---
Our women's livelihood groups focus on providing women entrepreneurs who have visions to grow their businesses with the training, products and services they need to thrive has set our Bangladesh women's business centres model apart and has driven their success in recent years. Now, we're piloting a similar approach in Nigeria – building on the learnings and vision of our women entrepreneur partners.  
In Nigeria, our focus is on health and wellbeing promotion, linking the social marketing of health and water, sanitation and hygiene (WASH) products and practices to digital health services that support women's wellbeing and existing health systems.  
 
The continued success of these centres demonstrates the importance of resilient local circular economies as a platform for community development. You can learn more by visiting www.womensbusinesscentres.org.  
---
TO CONTACT US ABOUT OUR WORK IN nigeria:
---
United Purpose/Self Help Africa 

Nigeria
No. 48 Anthony Enahoro Street,

Utako District, Abuja FCT,