Self Help Africa has been implementing agriculture and rural development projects in Uganda for close to 20 years.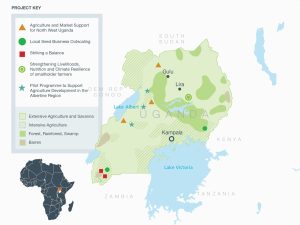 Full Name: Republic of Uganda
Population: 44.27 million (World Bank, 2018)
Population Growth (Yearly): 3.28%
Capital: Kampala
Area: 241,038 SQ KM (93,065 SQ Miles)
Major Languages: English (Official), Swahili (Official), Luganda, Various Bantu Languages
Major Religions: Christianity, Islam
We work with and through local community-based organisations, government agencies, international NGOs, private sector partners and emerging social enterprises in Uganda.
These diverse partners all have huge potential in addressing the country's hunger and poverty. We believe that the most effective role that we can play is in facilitating partnerships that will bring them together to serve the needs of underdeveloped rural communities.
We aim to be a catalyst, developing collaborative approaches to meet specific local needs through effective, integrated and sustainable solutions.
In this way, initiatives can continue without our support and have the potential to grow. Our programmes link with the national agricultural strategies produced under the Ministry of Agriculture, Animal Industry and Fisheries (MAAIF) Development Strategy and Investment Plan.
Country Profile
---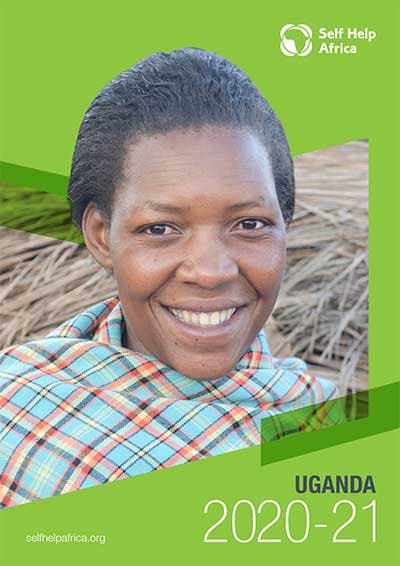 Read the Uganda Profile
---
---
Building Livelihoods and Resilience in Napak (BUILD)
---
Objective: Strengthened resilience of smallholder farmers, women, and youth through improved food security and climate adaptation for sustainable development in Napak district, Karamoja sub-region

This project aims to improve food security, build resilience, improve access to markets and finance, and strengthen gender equality for 4,500 people in Karamoja sub-region in northeast Uganda.
4,500 individuals 
---
---
Growing Resilience and Eco-Enterprises (GREEN) Project around Lake Bunyoni Sub-Catchment 
---
Objective: The project has been designed to contribute to the sustainable development of the Lake Bunyonyi Sub-catchment. The overall objective of the project is to achieve: Enhanced resilience of smallholder farmers, women, and youth in the green economy around Lake Bunyonyi Sub Catchment.
The proposed project will build on SHA's previous work in the region, focusing on increasing the capacity of local communities to practice effective and sustainable natural resource management (NRM), increasing agricultural production for food and nutrition security, and increased financial inclusion and green economic growth for local communities. The project will also focus strongly on promoting inclusion and gender equality. The overall objective of the project is to achieve: Enhanced resilience of smallholder farmers, women, and youth in the green economy around Lake Bunyonyi Sub Catchment.
1,000 (4,500 people)
---
---
Sustainable Food for All (SUF4A)
---
Adjumani and Katakwi
Objective: The Overall goal of the Sustainable Food for All (SUF4A) project is "Improved access to and consumption of sustainable, diverse and nutritious food among low-income farming households.
Sustainable Food for All (SUF4A) project is an entirely new project that will be implemented in Magoro Sub- County in Katakwi District, Teso sub-region in Eastern Uganda and in the refugee settlements and host-communities of Adjumani district, in Northern Uganda. Agriculture is the main livelihood source for over 70percent of Uganda's population (UBOS 2021). The project will support 2,000 low-income Households: 1,000 from Adjumani and 1,000 from Katakwi districts. The project will specifically target vulnerable groups: refugees, PWDs, and women.
2,000 households
(1,000 in Adjumani and 1,000 in Katakwi) 40% male; 60% female, 20% refugees in Adjumani, 10% youth
---
---
Building Sustainable Landscapes Resilient Livelihoods in Kigezi Sub Region 
---
Kabale and Rubanda districts in Kigezi
The results of this project will lead to increased green jobs, increased land restored for agriculture, improved resilience of the communities and improved health and hygiene of the lake.
The Building Sustainable Landscapes for Resilient Livelihoods project is designed to scale up existing interventions around the Lake Bunyonyi sub catchment area and new areas faced with climate change and environmental challenges. The overall goal of the project is to build inclusive and equitable landscape management systems that promote sustainable ecosystem services and resilient livelihoods for communities in the Kigezi Region- through the implementation of the recommendations from the Sub Catchment Management plan and scaling up interventions aimed at restoring land for provision of environmental services, creating green jobs and increased food systems.
4000 direct beneficiaries (20,000 indirect beneficiaries)
---
---
MARKET-ORIENTED RURAL ENTERPRISE FOR HONEY (MORE-HONEY) IN UGANDA
---
Objective: The project aims to increase income security for 2,000 smallholders in Northern Uganda through the honey value chain.

This project will develop an equitable honey value chain in one of the poorest regions of Uganda. Years of civil unrest have meant the destruction of, and lack of investment in, basic infrastructure and high numbers of refugees. Developing economic activities in this vulnerable region, in particular by supporting conflict-affected producers to upgrade their farms, upscale their activities and link to urban, regional or international markets, will create employment for young people, returnees and refugees and significantly improve rural livelihoods.

In Uganda, approximately 1.5 million households derive income from beekeeping, harvesting various products including honey, propolis and beeswax. This project aims to transform the lives and increase incomes for 2,000 smallholder farmers who  will benefit from improved skills and access to reliable markets offering competitive prices for their produce.

The project will support GBL and Swienty Commodities' commercial objectives of increasing the quantity, quality and traceability of honey and wax sourced from Uganda.

---
---
FOOD SECURITY THROUGH CLIMATE RESILIENCE AND GENDER EQUALITY
---
Objective: To support 1,560 smallholder farmers to increase their agricultural production and income, resulting in reduced hunger and poverty in the fragile districts of Teso.
The Project will reduce hunger and malnutrition and promote gender equality among 1,560 smallholder households in Teso sub-region through grassroots adoption of climate resilient approaches to food production, advocacy on the Right to Food, strengthening market linkages, diversifying income sources and adopting a joint husband-wife household planning approach to promote gender equality.

Teso has suffered civil strife from armed cattle rustling and Lord's Resistance Army insurgencies, resulting in huge loss of life and mass displacement leading to a complete breakdown of infrastructure and livelihoods. Smallholder farmers' households in Teso are particularly vulnerable to droughts, indicated as the prevailing shock faced by almost all households in the region in numerous resilience reports. The impact of the Covid-19 restrictions and resulting loss of income and educational opportunities has been especially harmful for women as we have seen an intensification of domestic violence and a surge in teen pregnancies. Therefore, the project has been developed with a gender-sensitive approach, tailoring all initiatives to the specific needs of women and most vulnerable households.

1,560 households
---
---
AGRICULTURE AND MARKET SUPPORT IN ADJUMANI AND KIRYANDONGO DISTRICTS
---
Objective: The aim of this project is to contribute to resilient and diversified livelihoods for smallholder farmers, especially women (at least 60% of total reached).

Rates of unemployment and informal, precarious employment are higher in the refugee contexts than in the rest of the country and have risen because of COVID-19. Data from UNHCR show that Adjumani hosts a total of 243,297 refugees and Kiryandongo hosts a total 75,090 refugees. Agriculture is the key to creating jobs and improving incomes for these communities and this project seeks to address some of the constraining factors which have prevented the growth of this sector and the active participation of young people, women, and refugees.

SHA began this programme in 2018 and this is the fourth phase covering the period January 2022 to August 2023. In this phase, SHA will be targeting nearly 6,000 smallholder farmers in Adjumani and Kiryandongo, including some farmers who have been part of the project from its earliest years. This phase will place particular emphasis on addressing youth unemployment with activities designed to improve access to credit, financial services and markets, link qualified young people to internships, apprentices, and jobs, and provide training in entrepreneurship and related skills to enable ambitious youths to start their own businesses.
5,992 Households

At least 60% women, 40% youths, 30%

refugees and 5% people with disabilities
---
TO CONTACT US ABOUT OUR WORK IN uganda:
---
Self Help Africa
Kalamu House
3rd Floor, Wing B, Plot 1B, Kira Road
P.O. Box 34429
Kampala,
Uganda.
Tel: +256 414 286 305
Email: [email protected]