Executives of the international engineering solutions company, Designer Group, formally launched a partnership with Self Help Africa to develop a youth training programme and increase access to employment opportunities for 200 youths in Kisumu County, Kenya.
The firm, which employs more than 1,100 staff in the design, supply and installation of mechanical and electrical utilities have been working on the refurbishment of the local East Africa Breweries plant in the port city of Kisumu on Lake Victoria.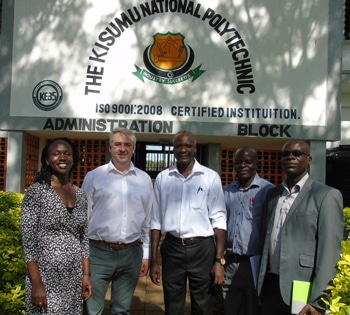 The partnership with Self Help Africa will kick-start a new skills employment programme for 200 local youth, and support scholarships and apprenticeship opportunities in local companies for 30 young people.
The African delegation was led by Irish director Brendan Kearns, who brought the group to Kisumu, and to local agricultural projects being implemented by Self Help Africa in the region.
"We want to ensure that students receive training so that there will be job opportunities for young people," Mr. Kearns said.
Headquartered in Dublin, Designer Group has offices in Limerick, the UK, Germany and the USA and is an industry leader that works with some of the world's largest multinational companies.
Designer Group entered a partnership with Self Help Africa this year that will see the organisation support job creation in Kisumu district, where youth unemployment levels are amongst the highest in the country.
Candidate who are interested in applying for the Designer Group Scholarship Programme should download the SCHOLARSHIP APPLICATION FORM, complete the document, and e-mail it as an attachment to [email protected].