Ugandan farmer Flora Nyirangaba's recent farming success is causing an unusual problem.
Last year she harvested just five bags of rice from her small field in rural Kazinga village, Kamwenge. This year, she estimates she will end up with at least 15.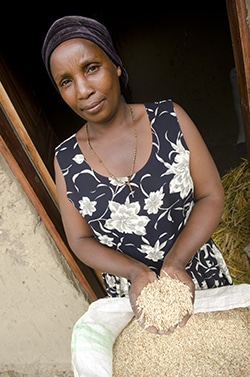 With such a bumper harvest, 41-year-old Flora has quickly filled her small storeroom and has resorted to storing the 70kg bags inside her modest home, where her husband and four children must clamber over them just to get out the door.
Asked if she will invest in a new storehouse, Flora explains, not this year. Not until she has covered the cost of food for the family, medicine and school fees for her children.
'I am proud that with my farm I have been able to keep all my children in school. But none of them have graduated yet so I have to carry on working hard.'
Flora's newfound success is thanks to a 'booster loan' she received as a member of a Self Help Africa supported savings and loans group.
Borrowing the modest amount of 100,000 Ugandan Shillings (£20), Flora invested in quality rice seed and was able to expand the amount of land she planted.
A second loan, allowed her to invest in opening a small shop, the profits of which she plans to invest back into her farm.
For the first time Flora is feeling more stable and even optimistic about her family's future.
With a smile she says the biggest change is that now if her children get ill, she will no longer have to go to her neighbours for help. Now she can afford to care for her own children and that makes her proud.
Watch her inspiring story below: