Scovia and Gastone Ndisasirwa are amongst thousands of Ugandans whose lives are being transformed by a scheme supporting the development of fruit and vegetable gardens as a means of improving household nutrition.
Young parents of two girls, their garden now looks as if it could stock a supermarket vegetable counter – with cabbage, amaranthus, papaya and tomato growing alongside pumpkin and other produce.
'In the past we might only eat matoke (a cooked starchy porridge) with beans and salt, but now we eat different food. We are healthier because of it', says Scovia, who will soon give birth to the couple's third child.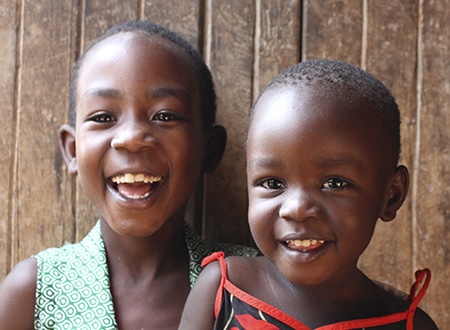 'We used to have to take the girls to the health clinic regularly because of illness, but now look at them', she adds – pointing to the energetic daughters Promise (7) and Prime (2) as they play around her.
Gastone and Scovia  joined dozens of other households from Kikyenkye village in South-Western Uganda on training courses on household food production and nutrition, hosted by Self Help Africa as a part of the US AID backed 'Community Connector' project in the country.
They received training in how to optimise what they could grow on their small plot, and were also allowed access to start up seed to plant various fruit and vegetable crops.
Not only is the family healthier, but Gastone says he has begun to look at his land in a different way. Before the project, he says he thought that his was just too small to support his family and allow him to earn a living.
'Now, I am very optimistic about the future, especially when I look at my children. I am going to continue working hard. Maybe one day we will become rich, maybe.'