A widow, Schmegie Kulbla is part of the solution to the problem that small-scale farmers across Ethiopia face in accessing good quality crop seed.
While upwards of 90% of the country's farmers produce their own seed from year to year, standards are poor, and often result in crop yields that are just a fraction of their potential.
A small-scale farmer who has just over four acres in Getma village in Ethiopia's Southern Nations (SNNP) Region, Schmegie is amongst 1,350 community-based seed producers attached to Edget Seed Growers Cooperative who are growing certified wheat seed to meet local demand.
She has been earning a good income from the venture since she started producing seed on her land nearly three years ago, and expects to earn $1000 from the sale of seed alone, this year.
The 30 quintals that she will produce on the half acres site set aside for wheat seed production will provide enough planting material for 30 farmers in her locality.
A mother of ten, Schmegie estimates that her income has doubled since she started growing seed alongside her traditional crops, teff (local cereal) and maize. She has been quick to invest her income too, using the money she has earned to build a new house and buy a cow which recently gave her two calves.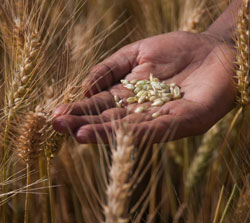 Schmegie Kulbla says that she is now more certain too of being able to meet the needs of her school-going children, including one who started university just this year.
"Life was hard for me in the past. My husband died ten years ago and left me alone. The family was young. It was a struggle.
Now it is easier, we have a better home, a better way of living. I can buy meat and vegetables, and when our cows are reared we will also have milk," she said.
Read more about the work of Edget Seed Producers Cooperative here.