Mother of four Alice Banda (32) grows cotton and maize on the small family farm where she lives in Eastern Zambia.
In recent times Alice has also become a groundnut seed producer. She is amongst 6,000 small-scale growers now supplying seed to a local firm (the Eastern Province Farmers Cooperative,) who trade groundnut seed with farmers across Zambia and in a number of other Southern African countries.
"I earn almost twice as much from selling groundnut seed than I earn from selling cotton or maize," says Alice. "The money I make allows me to keep my teenage daughter in school. She is in grade 11, and is working very hard."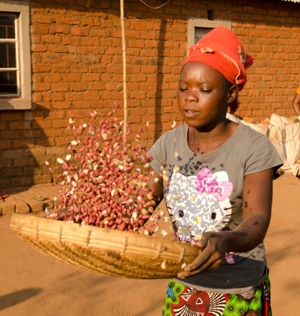 Alice and her husband farm seven acres in Kagunga village. They plant groundnuts for seed production on three acres, grow maize for household consumption on three acres, and use the remaining acre of land for producing cotton.
"We used to earn all of our income from cotton, but the market is unpredictable, and sometimes you wouldn't make enough to support a family.  That has changed."
Two of her older children are attending school and the two younger ones will start in the coming years.  "I want them all to get a proper education, and to do well in the world," she says.