*We have filled our places for 2023, but if you'd like to be added to the reserve list (in case of withdrawals due to injury etc) and/or would like to register your interest for 2024 - please complete the form below and a member of the team will be in touch.*
The Great North Run is the world's most iconic half marathon. The event, which is shown live on the BBC, starts in Newcastle city centre and finishes 13.1 miles later in the coastal town of South Shields.
2023 will mark the 42nd staging of this iconic event and the fourth time Self Help Africa have entered a team of runners. If you're up for the challenge, we'd love for you to join 'Team SHA' on Sunday 10th September.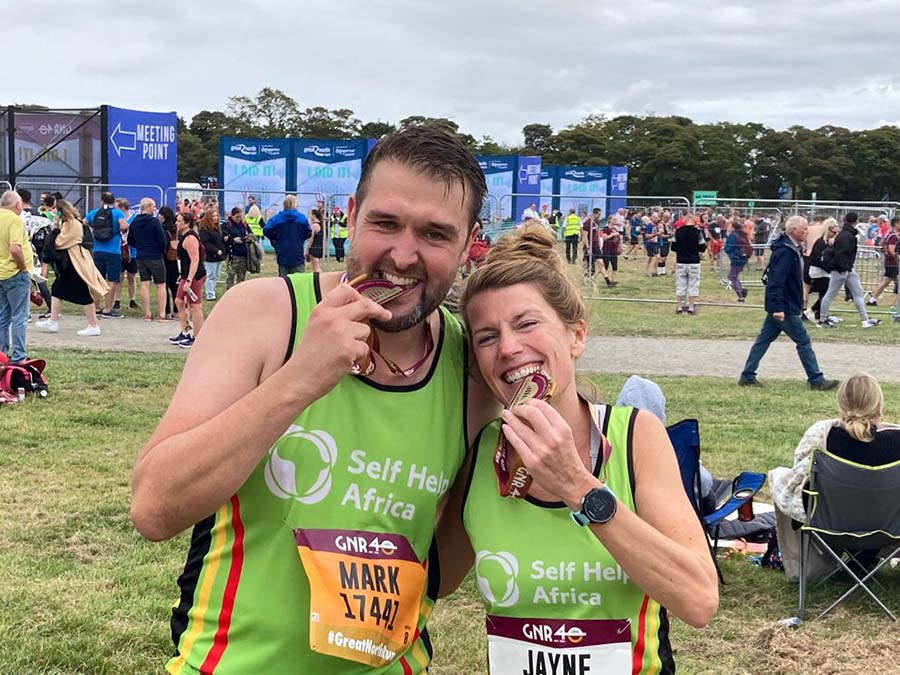 "Undertaking the Great North Run for Self Help Africa was a big highlight of my year. From streets packed with supporters cheering you along, to live bands playing on roundabouts and thousands of other runners to guide you along your way - who knows, you may even make it on to TV! There is no better feeling than crossing the finishing line after weeks of training, knowing you've done all the hard work and helped a worthy cause along the way. If anyone is wanting a new challenge in 2023, then don't pass this opportunity up - it's definitely a day to remember!" - Phil Brown, Team SHA 2019
The public ballot is always oversubscribed with 1000s of runners left disappointed each year, but we've got our hands on five exclusive charity places. For guaranteed race entry all you need to do is pay a £59 registration fee and pledge to raise a minimum of £250 for Self Help Africa.
Each member of our fantastic team will receive:
An exclusive Self Help Africa running vest and fundraising pack
Personalised support from our fundraising team
A Great North Run race pack which will include your race number, timing chip and event information
Plenty of encouragement, enthusiasm and smiles throughout your challenge!
Funds raised will support our work with vulnerable farming communities in sub-Saharan Africa.
For more information, contact Steph Smith on [email protected]