Meet Nuru – an artificial intelligence (AI) assistant at the forefront of agricultural technology that's changing the lives of smallholder farmers in Africa.
Nuru – Swahili for light – was developed by PlantVillage, in collaboration with the United Nations Food and Agriculture Organisation (FAO), the Consultative Group for International Agricultural Research (CGIAR) and other partners. Already, Nuru has learnt to diagnose multiple diseases in cassava, Fall Armyworm infestation in African maize, and diseases in potato and wheat.
In Kenya, Self Help Africa and PlantVillage are working together to bring Nuru to life. In total, 28,000 cassava farmers across seven counties will benefit from the tool, which helps to diagnose viral and mite diseases in cassava, and Fall Armyworm damage in maize.
Although still in beta testing, the response from farmers so far has been positive. Self Help Africa are working with lead farmers – such as Rosalind Akochi – training them to then share their experience with around 20 neighbours each.
Watch Rosalind explain more in this video:
Rosalind and her fellow lead farmers are chosen by community members, including Emiliana. In these pictures, Rosalind is showing Nura to her neighbour Emiliana. She is explaining how the AI system identifies Fall Armyworm damage.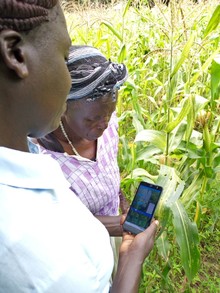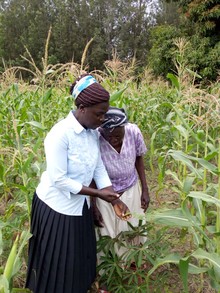 What does Emiliana think of the tool? "Mesmerising" she reports.
Right now we're just scratching the surface of what is possible with AI in our efforts to transform smallholder agriculture in Africa. We look forward to continuing to share updates from our work with PlantVillage. You can can read more on their blog.
PlantVillage is a research and development unit of Penn State University in the US, working to make technology such as mobile phones, drones and AI accessible to smallholder farmers in Africa.