A series of pictures and stories of Malawian women who are working with four Irish international organisations in the country are the subject of "16 Days of Activism" on gender equality which was launched recently in the southern African country.
This exhibition offers a glimpse of some of the gender work of being undertaken by Self Help Africa and by three other development organisations – Concern Worldwide, Goal and Trócaire in Malawi in recent years.
It tells the stories of a number of remarkable and resourceful women, four of whom have collaborated with Self Help Africa on projects that are underway.  Women like Lucia Kanyoza (pictured) in Dowa district, who planted amaranth seed in their garden, and earned the equivalent of €60 from the sale of her harvest from selling the crop over a period of five weeks.
Every time Lucia takes her vegetable to the market for sale, she brings home between MwK3,500 and MwK 3,700. This is a much higher profit compared to earnings from the same volume of other vegetables she also sells. The money is used to buy food and other basic necessities for the household.
A victim previously of gender violence in the home,  Lucia says that since she started working with her husband on this new venture, her problem has become a thing of the past. "I see the benefit of planning and working together with my husband".
The exhibition looks at how we support communities to address issues of gender based violence as linked to HIV, food security, education and climate change.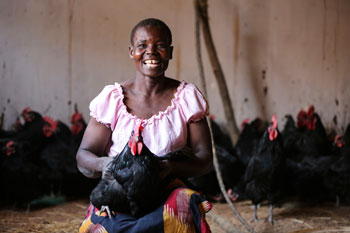 Pictured right is 41 year old Malita Chikosa, who rears poultry, also in Dowa District of Malawi.
200 has Malita has 200 birds, and makes money selling chickens and eggs, and expects to earn €500 from her business this year.
Malita has used the money to pay school fees and buy household goods for her family.