24-year-old farmer Florence Turyahebwa from Kamwenge in Uganda has big plans for the future and they don't require a husband.
She says confidently, "if you come back in five years I will have my own business. I'll be secure and happy." Asked if she will be married, she replies laughing, "maybe, but only after I am rich and I can choose who I want."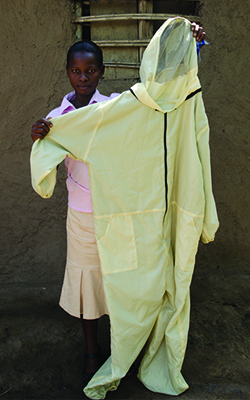 Florence has a long way to go before she could ever be considered rich. Currently just ensuring her younger sisters have enough to eat is the priority. But following involvement in a Self Help Africa project she has begun to picture a more secure future.
In the past after working hard on the farm, Florence would stay up late into the evening repairing clothes for extra cash.
Requiring suits for a beekeeping initiative, our local partner identified Florence's potential as a tailor and trained her to make the protective wear essential for the farmers involved in the project.
In just the 4 months since she finished training, Florence has been swamped with orders for almost 30 suits. She admits keeping up with demand is a struggle but aware it won't last forever she intends to earn as much for her future as possible.
'I want to have a big future. My dream is to own a shop, where I can make and sell clothes all day."
Florence doesn't keep bees herself but her success demonstrates the ripple effect good rural development can have. If one farmer has a little extra to spend they will likely spend it locally, raising the income of another, creating a chain reaction throughout the community with the potential to raise the livelihoods of all.