Sanwogou Lalle lives in Tonte village in the remote and poor far north of Togo in West Africa.
A rice processor and a member of a women's enterprise group supported by Gorta-Self Help Africa, Sanwogou and the 18 other members of the group buy 'raw' brown rice that they de-husk and mill into white rice, which they sell at a premium in the nearby regional capital, Dapaong.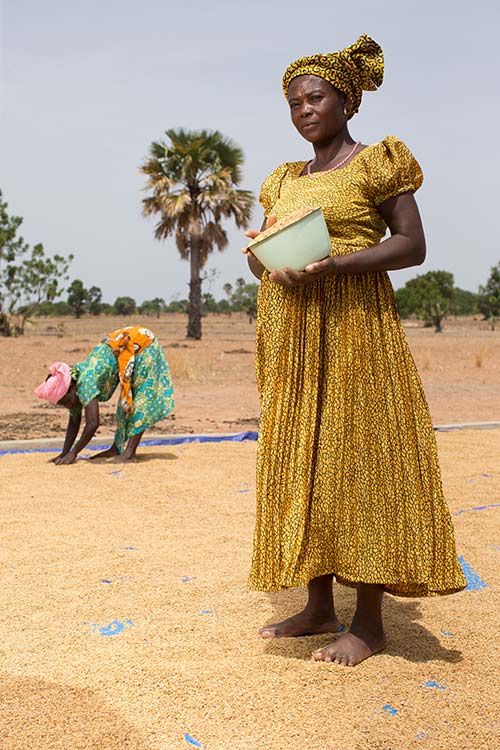 Aged 38 and a mother of five, Sanwogou says that the income she earns from rice processing enables her to supplement the money her family earns on an eight-acre farm in the village.
The group received training and support with their business, together with pots and other equipment to help them to parboil the rice.
A brick shed for storage and concrete stand where they can dry the rice in the sunshine have also been constructed. The Tonte women's group buy from farmers in the locality who have been trained as rice growers, and when local supplies are scarce from the markets in Dapaong.
They can buy a bag of brown rice for the equivalent of 50 cents and can sell the same quantity for more than double that sum. "We try to buy as much as we can at harvest time when the price is cheap, and then sell it at different times of the year when the demand is higher, and the price we can earn is better," she explains.
"I never went to school, but my four older children are all attending," Sanwogou says. "My son wants to be a doctor. Another one says he would like to be a Minister. "I pray that they can achieve their goals."
With your support Gorta-Self Help Africa is assisting thousands of poor women with small-scale rural enterprise, to supplement the income of households who struggle to grow or earn enough from farming to support their families.