When

Thursday July 23rd - Sunday August 30th

Location

Your local Golf Course

Cost

Individual Player - £25
Corporate Sponsor - £200
Register now
---
Playing in Ireland or the USA?
Register below:
Register in Ireland
---
Register in the USA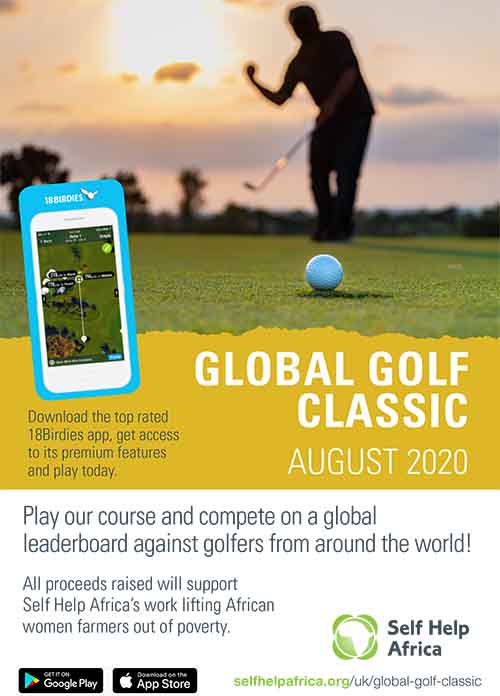 Join us in our first ever virtual Global Golf Classic!
Self Help Africa has teamed up with 18Birdies for the Global Golf Classic, to allow you to compete with golfers across the country - and the world - in support of African development.
The Global Golf Classic uses the
18Birdies app
to allow competitors to play on different courses and see their scores 'normalised' for course difficulty and handicap, to produce a truly global leaderboard. Over 40,000 courses worldwide are available on the app - meaning you'll be playing alongside supporters from Ireland and the USA!
---
How it works:
Follow the steps below to make sure you're all set to Tee Off with 18Birdies and Self Help Africa:
Register on our website - We'll send you an e-mail with details of how to access the Global Golf Classic tournament.
Download the 18 Birdies App - You'll use this app to enter the tournament & track your game.
- Be sure to check that your course of choice is on the App prior to the event. Don't see it there? Let us know and we can make sure it's uploaded.
Book a Tee-Time at your local course - On any date from July 23rd - August 30th.
Play and log your score on the app - Your scores will be analysed in the 18birdies app to produce a leaderboard in your club and globally!
---
Sign up for the Global Golf Classic and you'll be joining hundreds of other golfers worldwide in supporting Self Help Africa, helping farmers in rural Africa to lift their families out of poverty.
Contact our UK Fundraising Team at [email protected] for more information.
Register now
---
Playing in Ireland or the USA? Register below:
Register in Ireland
---
Register in the USA