36-year old Asimenye Mwafongo is on the frontline of Malawi's fight against one of the biggest threats to food production that has been seen in Northern Malawi in a generation.
Armed with just a notebook and the knowledge that she picked up on a recent Self Help Africa training course, the mother-of-four is carrying out a detailed study of the invading Fall Armyworm, and has set up two study plots where she is trialling different approaches to combatting the destructive pest.
"Self Help Africa is enabling me to find a solution to this problem by myself. I'm now leading my own research: I come to the study field every week and I document the evolution of the pest and how crops are responding to both chemical and botanical pesticides," she explains.
Asimenye is trialling chemical-based treatments and botanical-based solutions (using locally available plants including neem and chilli on her plots), and will share her learning with the members of the community-based Farmer Field School that she leads.
"Fall Armyworm is one of the biggest challenges for local farmers. It hinders our production." Asimenye explained. "My production of maize went down from 800kgs to 400kgs in just a year."
"My children have gone hungry because of the pest. What I am learning from both the training and my own research will help me to improve my farm production and my income in the months to come."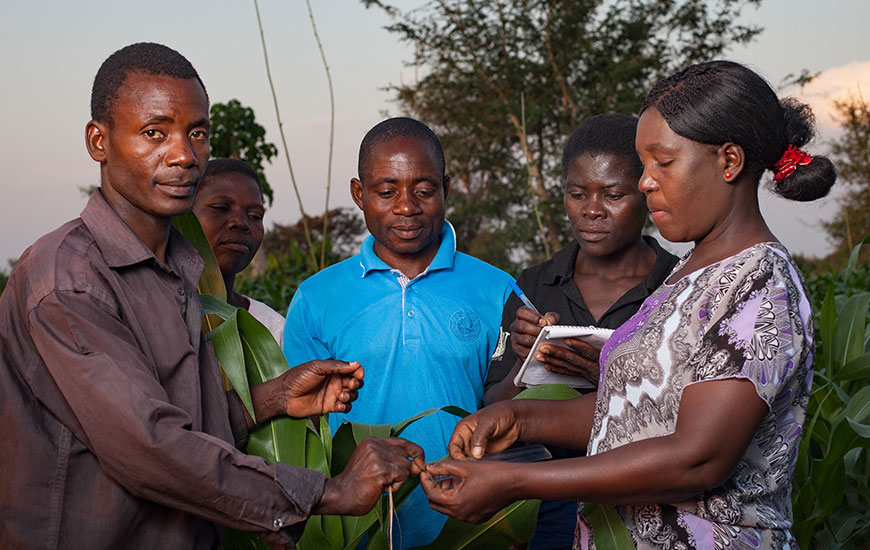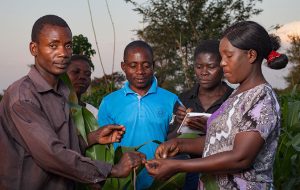 Asimenye is amongst 30 members of the Lusekelo Community Based Facilitators group in Karonga District, Northern Malawi, who are being supported by Self Help Africa as part of the BETTER project (Better Extension Transforming Economic Returns).
The five-year programme, funded by the EU, aims to increase the resilience, food, nutrition and income security of 402,000 smallholder farmers in 10 districts of Malawi, through an innovative network of 13,000 community-based Farmer Field Schools. Participating families are receiving training on climate-smart agriculture approaches, crop diversification, pest management, nutrition, gender, agribusiness, livestock care and more.