For Evalyne and Tito Safari, keeping bees is all about teamwork.
Married as teens, Evalyne (28) and 30-year old Tito have been working side by side on their farm for the past decade.
Parents of four young children, they concede that supporting the family on a just a small parcel of land in rural Uganda hasn't always been easy – yet they have managed, together.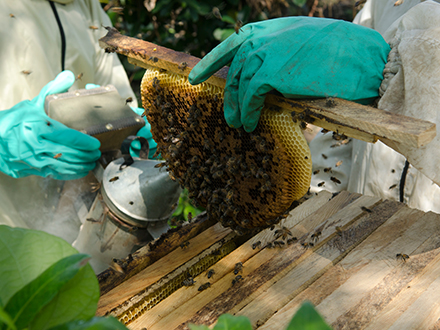 As their children grow older, the added financial burden of paying for food, clothing and school fees  is a source of concern to the couple, however.
It's why Evalyne and Tito jumped at the chance of getting involved, when Self Help Africa began recruiting local farmers to get involved in a beekeeping training project in the isolated community of Nyabanni, Uganda.
Neither had ever kept bees before, and in fact Tito recalls being chased and stung by bees as a child. He says that he avoided them thereafter.
Despite his concerns, Evalyne and Tito attended every training and demonstration workshop with enthusiasm. 'We saw that we could still grow all our other crops and just keep the bees amongst them. We could make more money without needing more land,' Evalyne said.
Equipped with a set of six hives, Evalyne and Tito haven't looked back since. Within six months they have establish a healthy colony, and the young couple are enthusiastically preparing for their first harvest of honey. Evalyne says:
'We have done all the hard work, so when the harvest comes we expect to earn enough money for school fees.'
Tito says it's about teamwork. "It's easier to have two people when you're trying to fit the bee-suits on properly, and it's also easier if there are two of you smoking the hives and collecting the honey," he said. "Without Evalyne, I don't think I could be a beekeeper."
It seems beekeeping, like life, is easier when the burden is shared.