Angella is a young mother trying to overcome the trauma of war and violence and rebuild her life in one of the poorest and most troubled places on earth, a district called Teso in northern Uganda.
Teso is still recovering a decade on from years of violence and destruction at the hands of warlord Joseph Kony and his Lords Resistance Army. Many people were murdered, women raped, their villages burnt, their crops destroyed, their children stolen away to become child soldiers.
Angella lost her parents to this apocalypse at 13 and had to flee her home, taking on the care of her three younger siblings.  Ten years on she's back, starting her life again, from scratch, with courage, hope and determination.  She found her home had been burned down and her family's small land had returned to bush: "We fled with nothing, and we returned to nothing," she says.
Teso is one of the poorest areas of Uganda.  Families rely on subsistence farming, growing barely enough to eat. People are still struggling to restore their farms that became wild again after being abandoned. There is not enough to eat all year – families eat just once a day, and endure 'the hungry months' when food run out. Children experience malnutrition, and miss out on school.
The recent history of the people of Teso is grim, but their future doesn't have to be. It shouldn't be. And with your support, it won't be.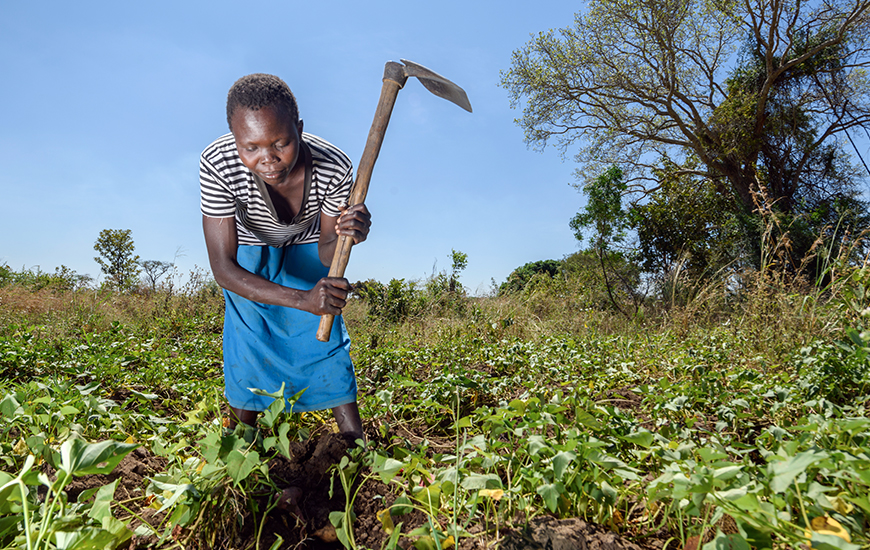 At Self Help Africa, we know that agriculture is the answer – across sub-Saharan Africa, improving farming is ten times more effective in reducing poverty than anything else.  We have years of experience and expertise supporting communities improve their farming and family income. And we've been able to do that, because of you and your support for many other people like Angella.
Since her return to Teso, Angella has cleared her one acre land and has planted cassava, sweet potatoes and sorghum. But Angella still only grows enough food to feed her family once a day.
Please, make a special gift today to Self Help Africa's Give2Grow Appeal, for Angella, for the people of Teso. You will be helping people believe in themselves, supporting them as they change their lives for the better, overcoming poverty and hunger through their own efforts, enabling them to be more independent.
This life-changing opportunity is very special – your donation to the Give2Grow Appeal will be doubled by the UK government, helping not just one family like Angella's – but two!
Angella says: "I love Teso, the soil is fertile here. If I had the right tools and skills to farm more land, I could grow more crops and make an income from my work. I would be able to afford school fees for my siblings and pay for medicines when we are sick."
---
I want to help families like Angella's