Just as mobile telephones have revolutionised the ways we communicate, phone technology is also playing a vital role in transforming the lives of farmers in sub-Saharan Africa.
For them, the ability to check market prices, or find out at the touch of a button about plant diseases, or when they should sow, is bridging an information gap that has hindered productivity in rural Africa, for generations.
In the highlands of south-west Uganda 38 year old Peace Ndongyereye is contributing in her own way to this mobile farming revolution.
A community knowledge worker trained by Self Help Africa, she spends time each day scaling the steep slopes of Bukimbiri District dispensing advice to farmers on their terraced plots. Much of the knowledge that she shares is via mobile phone.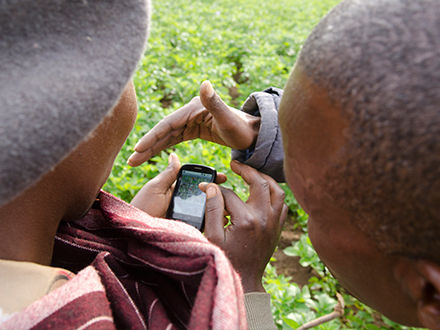 Peace's smart-phone is stocked with a bank of images to illustrate common plant diseases, together with a practical step by step guide to the action that should be taken if a particular blight of fungus is discovered.
Selected by her local community to fulfil the role of knowledge worker because of her own farming ability and experience, Peace has worked in her voluntary role for two years, but has no thoughts of stopping anytime soon.
"I benefitted greatly from the training that was given to me. I am a farmer myself. I am proud to share my new skills if it can help other farmers grow more," she says.
Read more about Self Help Africa's use of mobile technology here.