The number of rural poor people able to provide a year-round supply of food for their families increased by 30%, and disposable incomes more than doubled over a five year period, a study of farming households supported by Gorta-Self Help Africa has found.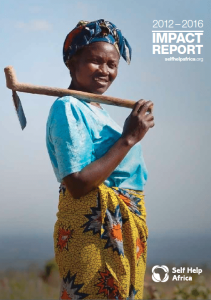 The newly published report shows that households able to feed their families for the full year increased from 47% to a level of 78% during the period, 2012-2016.
At the same time over 316,000 households found that, on average, disposable income increased by a massive 248%, while crop yields grew by 25%.
"The incomes involved might be very modest by Western standards, but nonetheless the increased farm earnings has provided these people with additional money that they can spend on better quality food, school fees, health, and household essentials," Programmes Director Orla Kilcullen said.
Within the USAID backed-Community Connector (CC) project in Uganda the number of under two-year-olds to be receiving three meals a day increased by 22%. In Northern Malawi, 89% of farmers had introduced diversified activities on their small-farms, while in West Africa, cashew production amongst participating farming families increased by 28.5%, and the price per kg paid to farmers grew by 21%.
The report, which is available to download HERE, identifies a number of projects where innovation and pragmatic answers have been found to different challenges faced by rural poor communities in Africa. Amongst these was a project in Malawi where upwards of 300,000 small-scale farmers accessed farm advise via their mobile phones, during 2015.