Samada Masanda's the leader of her local farmers' group.  She's a small-scale farmer, a business woman, a mother.
For 38 year old Samada, and for others in her community of Kazinga village in south-west Uganda , life is changing for the better.
'In the past, parents here didn't bother to educate girls. But now they've seen that women like me can be leaders, so they educate all their children.'
Aged just 17 when her father died, Samada was taken out of school by her widowed mother and was married.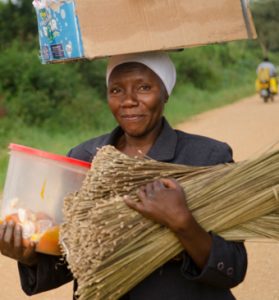 Without any formal training, Samada had few options other than to become a farmer.  option. She has no regrets, and says that 20 years working the land has allowed her to raise a family. She does, however, crave a different story for her own daughters:
'My dream is for my three daughters to complete school so they have the opportunities that I didn't.'
But school fees are expensive and life in the Ugandan countryside is unpredictable.
Just two years ago Samada's harvest failed due to drought. As a result she recalls the family survived for weeks on just one crop:  'We ate cassava for breakfast, lunch and supper.'
Support that she received as a member of a Self Help Africa savings project helped her however.
Able to access a 'booster loan' of 200,000 Ugandan shillings (€60), six months ago Samada opened a small store. She now works every day on her farm, and each evening in the store, trading goods she buys at a weekly market.  She also sells chickens across the border in nearby Democratic Republic of Congo, and buys palm oil and brushes there, that she sells in her small shop.
She doesn't earn a great deal, but the diversification of income has given her family a new certainty in life she has long craved. As Samada observes:
'Farming and business are both uncertain, but now if one fails I know I can still make money from the other.'