An innovative programme that has enabled local communities to adopt a range of conservation agriculture approaches has led to both increased farm yields and incomes, while supporting vital restoration of some of Zambia's most important wetland areas.
Communities living within the Kafue Flats, a 6,500 square kilometres floodplains that flank each side of Zambia's longest river, have been adopting a range of practices that embrace a 'Functional Landscape Approach' (FLA) to Sustainable Land Management, to ensure that there is a balance between economic and ecological considerations in how the natural environment is managed.
A second phase of Self Help Africa's 'PRESERVE Kafue' has just launched, and will build on the achievements of an initial three-year project that supported more than 3,000 households along the plains beside the Kafue River to increase and diversify their farm incomes, while protecting and restoring essential wetlands and the broader eco-system within the Kafue sub-basin.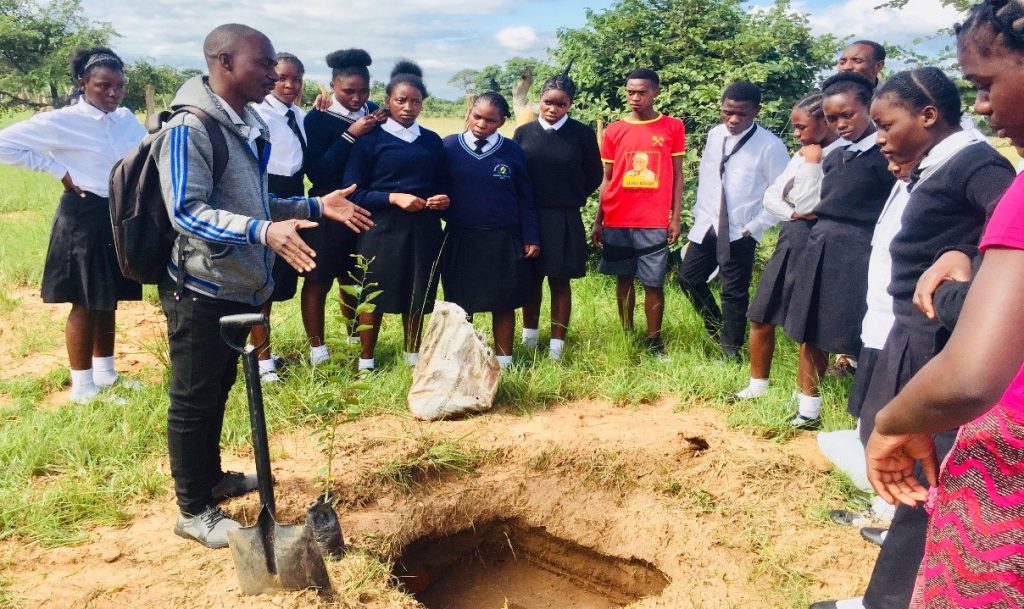 Main Picture: A lead farmer delivers a training session to a village group taking part in the PRESERVE Kafue project. Above: Members of a Green School Group take part in a tree planting activity.
The new project will expand on Self Help Africa's work at Kafue, which to date has promoted climate smart farm practices at 13 main learning and demonstration sites, and showcased how integrated farming activities and small-scale horticultural enterprise could be adopted to boost household incomes, at 48 other sites across Zambia's southern province. The project has supported the introduction of new horticultural crops, community seed banks, livestock pass-on schemes and has helped to improve access to markets and add value to farm production. Village-based natural resource management committees have been formed, as have school 'green clubs.'
Project manager Aggie Chama says that the next phase of PRESERVE Kafue will build on this, and support 4,500 farming households with the adoption of a range of climate-smart agricultural practices in horticultural production, promote land and water conservation, tree planting and other environmental activities, alongside on-farm activities.
"The wider Kafue Flats Biosphere Reserve covers a total area of around 2.6 million hectares. The area is host to over 400 species of birds and other animals including hippo, zebra, buffalo and the Kafue lechwe (antelope)," she says. "The Flats are also home to Zambia's biggest population of livestock, so there are important considerations that must be factored into how we balance the needs of farmers to earn a living with the broader to protect their environment for the long term."
Aggie Chama says that the new project will work with 50 communities across Mazabuka, Monze and Namwala districts of southern province, where tens of thousands of people depend on the plain and the adjacent catchment for their livelihoods. "The closeness to the wetlands to these communities has increased pressure on the area's natural resources," she added.