More than 32,000 people in West Africa will benefit from a major new Self Help Africa project to improve water and sanitation in Northern Togo.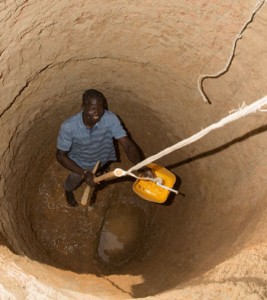 The European Union has awarded €450,000 in funding for the scheme, which will construct boreholes, build pit-latrines, develop sewage systems and establish water user associations in the Naki and Ogaro District's of Togo's impoverished Savannah Region in the far north. Public fundraising activities will seek to raise an additional €220,000 for the work.
The new project will seek to provide access to safe water and sanitation to local people, and also provide training and raise awareness of the importance of good hygiene to health and wellbeing.
The three-year scheme will start in January 2017, and will be delivered in partnership with the Association of Community Health Activities (3ASC), a local non-governmental organisation operating in the region.
Although food production is the primary focus for Self Help Africa in its work, water borne diseases and poor hygiene severely limit agriculture production and contribute to poor health and high levels of child mortality in the region.
The new EU-backed project will support the creation of two district level water and sanitation commissions and 54 village-level water user associations, and will construct or rehabilitate more than 30 borehole water sources in the Savannah Region of Togo.
Close to 20,000 people will benefit from improved quality household sanitation under the scheme, with 1,700 latrines, 150 ECOSAN latrines that enable waste to be recycled as compost manure, and a further 140 sewage systems to be built over the three years.
Communities who benefit from the project work will pay a small fee for use of the new and refurbished utilities, to ensure that a management fund is established, to ensure the future maintenance and upkeep of their water resources.