Rural poor farmers using an innovative new trading service supported by Self Help Africa are earning an average of 18% more for their produce.
TruTrade, a social enterprise operational in Uganda and Kenya negotiated deals that meant more money in the pockets of thousands of rural poor farming families.
Although margins are modest by Western standards, with sellers earning on average just $80 per annum from deals that were brokered by TruTrade. Since becoming fully operational in January 2015 producers who sold through TruTrade have earnt an extra $50,000 than they would have done if they had sold their produce to traditional 'middlemen'.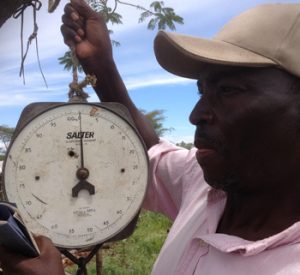 TruTrade Director Jenny Rafanomezana said that in the past 18 months TruTrade had brokered more than 1,000 metric tonnes of produce on behalf of poor farmers. This has taken place in a wide range of commodities including cereals, pulses, vegetables and cotton.
"At Self Help Africa the emphasis is on supporting farming families to grow more on their small farms, but this is only an effective way to end poverty if they are earning more for these goods," she said."At TruTrade we actively source markets and negotiate prices on behalf of farmers, with the emphasis on transparency, and securing a fair deal for all concerned."
One recent transaction secured a price of nine Kenyan shillings (9 cents) each for avocados from buyers in Germany and Holland. This compared with a price of just 5 cents which was being offered to growers at the 'farm gate.'
Ms Rafanomezana said that the new enterprise, which transacted more than $500,000 worth of deals so far had set itself a target of reaching $30 million of business on behalf of rural poor farmers in Africa by the year 2020.
"The key to supporting small-scale farming families to achieve success in their efforts to end poverty is not only to increase their farm production, but to also ensure that they can earn more from their farming efforts," Self Help Africa CEO Ray Jordan said. "Figures released by TruTrade show that in their very first year and a half they have made a very real difference to the lives of thousands of small-scale producers in Kenya and Uganda."
As well as sourcing and negotiating new markets for farm produce, TruTrade provides training and mentoring for people to take up the business opportunity. TruTrade is a social franchise that is providing an ethical business model to aggregate and add value to farmers' produce.