Munira Hairdein's 15, and the eldest of three children living on a small family farm in southern Ethiopia.
Munira's lucky, as she is amongst a small number of girls her age who are attending school past primary level, where she lives.
Her school attendance is possible because her parents can afford, and are willing to spend the money required to enable her to continue her education.
Three years ago, Munira's father, Hairedin Mekina began working with Self Help Africa on a community-based seed multiplication project in Halaba District.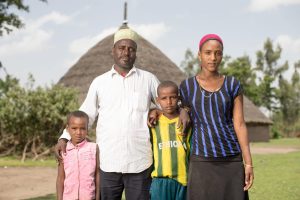 The project sought to improve farmers' access to wheat, teff (traditional grain) and haricot bean, and also, to a lesser extent, promoted the production of sesame and of improved coffee plants in the locality.
Three training centres were created to promote the seed scheme, nine primary seed multiplication and marketing cooperatives were established, nine grain stores built, and farmer training days were organised to support the production and distribution of improved quality seed.
4,250 households benefitted, with access to better quality seed resulting in an average 40% increase in harvests for farmers in the project area.
As a result of his work Hairedin Mekina says that his income increased, his family's diet was improved, while he has been able to afford to send his daughter Munira, and her two brothers Abdishikur (15) and Amruka (5) to school.
Munira Hairedin is fortunate. She is amongst just 10% of girls in rural Ethiopia who attend secondary school.