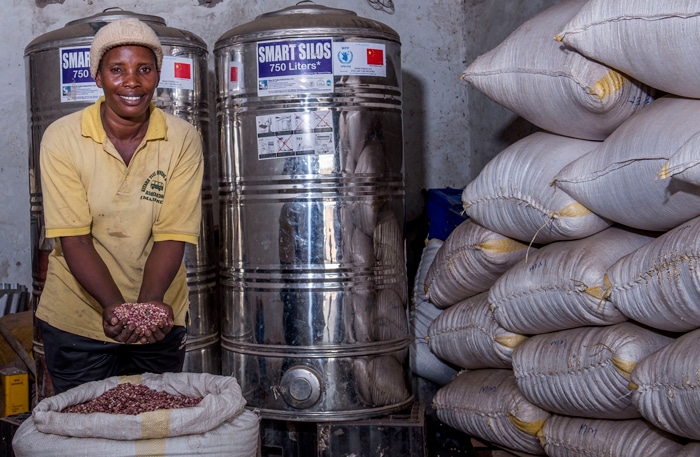 Refugee families in Uganda are earning an income by selling crops to the main UN agency that is feeding hundreds of thousands of displaced people in the country.
An innovative new Self Help Africa project is providing thousands of smallholder households, including 4,000 refugee families, with the opportunity to sell their corn (maize) and other crops to the country's World Food Programme (WFP) mission.
The training focuses on quality control in the production and post harvest processing of corn, sorghum and beans. It is providing rural poor farmers with access to one of the country's biggest buyers of the crops –WFP- who currently spend in excess of $40m annually on grain, in Uganda.
"The WFP applies a high standard to the food crops they will buy. Crops need to be free from pests and other contaminants, and be properly cleaned, dried and graded," explains Uganda Director, Engorok Obin.
8,500 farming households in the west and northwest are participating in the new two-year project, which is part-funded by the UN. Within the region there are a total of 10 refugee settlements who are amongst an estimated 1.4m displaced migrants currently living in Uganda.
Farmers are being trained in post-harvest handling, and are also provided with the opportunity to buy equipment, including clean tarpaulin sheets on which they can dry their crops at a subsidised price. They can also buy high grade grain sacks and hoppers at a reduced cost, so that harvested produce can remain free from contamination.
'Drying maize on the ground, as happens traditionally, means that it can contain dirt and other contaminants," Mr. Obin explains. "By supporting farmers to improve both their drying methods and storage we can also ensure that their crops will meet the required standard."
There is a huge economic dividend to rural poor farming households from this work, as the WFP pays farmers well for good quality grain, and they also have an enormous and ongoing demand for food. The World Food Programme purchased $1.36 billion worth of food from farmers across 93 countries worldwide, in 2016.