Africa was the winner again this year when almost 500 people gathered in Manhattan for the annual Change-Maker's gala ball, to support Self Help Africa's work with rural entrepreneurs.
"This New York event has really become something very special for Self Help Africa," said the organization's director of development, James Kelly. "It provides vital funding for our work with entrepreneurs in hundreds of poor communities in Africa and it's really remarkable how much of a connection has been forged between Manhattan and Africa as a result."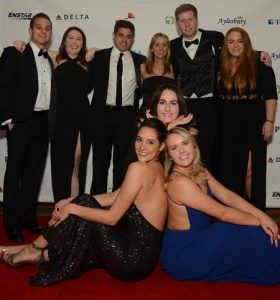 "It's a really fun event but the key is that it's a night where we're building success in Africa. The proceeds from one evening here are used to help develop small businesses, increase profits in existing small businesses and ultimately lift people out of poverty permanently."
One project that received special attention on the night was the 2016 Cooperative Savings And Loan Project, which will see a large group of village savings and loan groups in Ethiopia merged together over a three-year period to build a financially sustainable financial institution.
"Less than one in ten Ethiopian adults has access to a bank account," explained James, "but all the evidence shows that people are able to grow their incomes faster and deeper if they have an account. So we asked this New York event to support that project in particular, and as a result we raised enough to kickstart our efforts the for the next 12 months. This is a project that will eventually provide savings and loan services to 65,000 adults. If you estimate that behind every account, there's a family of six people, then it will bring benefits to almost 400,000 people. That's an impressive impact for just 500 New Yorkers to make."
"This is our flagship event to support Self Help Africa's programs throughout Africa," said James. "Every year, quite literally, tens of thousands of people see their lives transformed from the support that the Change-Maker's Ball attracts.What better way to spend a Friday night in November than changing someone's life for the better in 2017, and having a great time doing it?"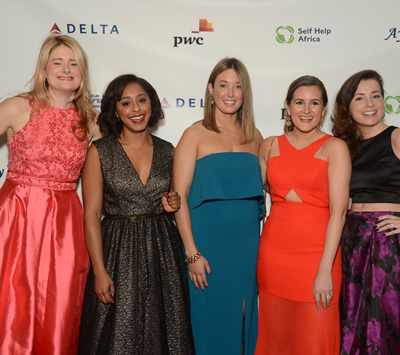 Self Help Africa wishes to thank all its generous sponsors on the night, especially  – Delta Air Lines, Guinness, Premium Sports Inc, Klehr Harrison and Douglas Koch Designs.
We would also like to thank our Gold Tabble and Silver Table Sponsors for all the continued support, the night would not be possible without you – Aylesbury, Delta Air Lines, Enstar, Teneo, PwC, Brendan and Christine Farrell, The American Ireland Fund, BGC Partners, Burgher Gray Jaffe, Bank of Ireland, Earlsfort Capital, Great Oaks Capital, Havas, Mintz Levin, ParishPR, Commonwealth Land Title Insurance Company, Debevoise & Plimpton, Diageo, The Goldwater Taplin Group, Guinness, KPMG, Matheson, Mayer Brown, Sullivan and Worcester, Moelis & Company, Beckett's, Bierhaus, Brass Monkey, Mad Dog and Beans, Tavern29, Taproom 307 and The Flying Cock bar.
Thank you also to our Prize Sponsors – thanks to you we managed to raise vital funds on the night: Alex Schrecengost, Andy Jones, Anne Cosgrove, The Bailey, Ballybunion Golf Course, Barry's Bootcamp, Becketts, Ben Hincks, Brendan Farrell, Cara Tallon, Caroline Simmons, Castlebrands, Cathy Quinn, Chantal McLaughlin, Chelsea Piers, Cliff at Lyons, Cliff Townhouse, Croine O'Halloran, Danny Waldron, Delta Air Lines, Denis Hickie, Dessie Farrell, Donal Crosbie, Dooley's Car Rental, Dubliner, Eli Manning, Equinox, Exhale Spa, Gansevoort Group, Gemma O'Brien, Guilbauds, Guinness, Honor Byrne, Hudson Hound, Hugh Finnegan, Jason O'Brien, Justin Farrell, Kadie Afrik, Karl Wall, Kinky Boots, La Residence, Lamar Houston, Last Star Beauty, Mad Dog and Beans, Maiyet, Martin Moody, Mike Huddleston,  Monarch Beach Resort, Morgan George, Naomi McMahon, Neasa NicDhonaill, New York Giants, Nicola Parish, Nizza, Noel McDermott, Paul O'Connor, Rachel Conlan, Rachel Roy, Radisson Blu, Robbie McMillin, Roberta Souza, Ronan Downs, Ronica Sharma, Shelbourne Hotel, Sinead O'Brien, Singita, Stephen Johnston, Stone Street Tavern, Taproom307, Tavern29, Tiny's and the Bar Upstairs, The Tonight Show with Jimmy Fallon, The Flying Cock, Tom Nichols, TOME, Trinity Place, Trouvaille Watches, Tryp Hotel, Vinny Pastore, Watch What Happens Live, Wayne Brady, Webere Shandwick, Will Van Dyke.