A pioneering project that helped an Ethiopian farmers union to produce the quality wheat seed that it's members needed, has received national recognition in the country.
The collaboration between Self Help Africa and Edget Farmers Union saw coop members receive training and support in quality seed production, with the result an improved supply of wheat seed across the region.
In 2013 Edget (which means 'progress' in the Amharic language) supplied over 15% of deman in SNNPR Region, with the union providing up to 100% of first generation wheat seed in some districts.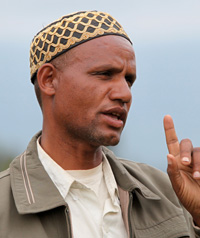 At harvest, growers reported increased yields, and increases of up to 75% in income.
The project has changed the attitude of government and research staff, says district Seed and Quality Control Officer Malaku Bilihu, with the Ministry recognising the capacity of farmers groups to enter the seed market as autonomous local seed businesses.
Self Help Africa has since presented its experience with Edget at numerous fora, while the Government of Ethiopia has included the pioneering work in its recently prepared draft seed development strategy.
In Spring, 2014 Self Help Africa's Ethiopian team received a citation for good practice in early generation seed production for it's work with Edget Union. Access to quality seed is essential for farmers, but in Ethiopia demand far outstrips supply.
A major bottleneck has been a shortage of improved early generation wheat seed. SHA's work with Edget Cooperative included trial farmer production of seed, training in quality seed production, business skills, seed regulation, and the creation of linkages between the farmers and government agricultural research services.
(Pictured top: Committee members of Edget Seed Cooperative.  Centre: Shenecha Denur, coop chairman)