---
Be PART OF THE
CLIMATE CHANGE SOLUTION
Every business causes carbon emissions. Many are doing a huge amount to reduce their carbon, but we can all do more! 
Plant trees with Self Help Africa and offset your company's carbon footprint.
---
Register Interest
---
---
---
Why not plant trees in Africa to offset your carbon footprint?
By doing so, you'll reduce your company's climate footprint, and also have a real social impact - supporting those in our world who are least responsible for global warming, yet are facing some of its worst effects.
---
Talk to Us
---
---
---
---
HOW IT WORKS
If you'd like to know more about planting trees to offset your climate footprint, get in touch. We'll calculate your carbon footprint, and provide a tree planting plan for you.
---
Self Help Africa ambassador Kathryn Thomas.
---
1. Your Carbon Footprint
Using utility bills and other information, we can calculate your carbon footprint. The data is easily captured. Once you decide to plant trees, we'll identify the best tree planting programme to suit your requirements.

---
2. Expert Knowledge
Self Help Africa will provide data on the expected volume of carbon your planting efforts will offset,  based on tree varieties and planting locations chosen.

---
3. Real data
We will share information with you - for staff, clients and consumers - the GPS location of your trees, so that you can monitor the effort for years to come.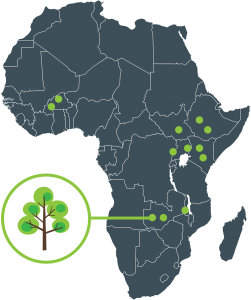 ---
4. What you get
Framed and digital certificates, as well as other assets will be provided, to acknowledge your tree planting and carbon offsetting efforts with Self Help Africa.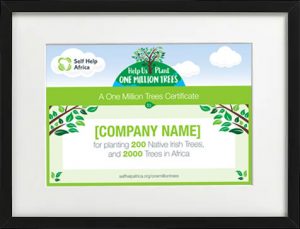 5. Our Partners
We're not doing this alone! Self Help Africa's teams in the West and in Africa include agriculturalists,  horticulturalists, arborists and tree planting specialists like Aggie Chama (below), a qualified forester and programme manager in Zambia. We have also teamed up with GreenFeet, an Irish-owned start up that provides consultancy services to companies seeking more comprehensive carbon offsetting strategies. Our efforts are also allied to the UN-backed 'One Trillion Trees' initiative.
Sign Me UP!