OUR management team
---
---
Self Help Africa's management team supports the Board in the achievement of its objectives.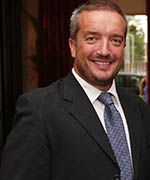 ---
RAY JORDAN
GROUP CEO
---
Ray Jordan has been Chief Executive of the organisation since 2007.
A native of Limerick, he began his career as an Engineer with the Missionaries of Africa ('The White Fathers'), and lived and worked in Uganda for six years in the 1990s. He was subsequently employed as head of Operations with GOAL – and was in charge of managing the logistics for all aspects of that organisation's relief missions following Hurricane Mitch in Central America in 1998, following the war in Afghanistan in 2001, in Darfur, Sudan in 2004, in post-Tsunami Indonesia, and following the Pakistani earthquake of 2005.
Upon joining Self Help Development International as CEO in July 2007 he oversaw the successful merger of that organisation with UK development agency Harvest Help, to create Self Help Africa, and in Summer 2014 a merger with Ireland's oldest overseas development agency Gorta.
Ray holds a Masters Degree in Civil and Environmental Engineering.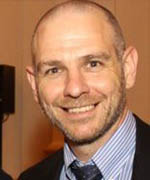 ---
PETER MCDEVITT
CFOO
---
Peter is a Fellow of the Institute of Chartered Accountants.
He has over 20 years' experience working at senior management level in international NGOs. In addition to being responsible for the Finance function in Self Help Africa, Peter also chairs the Programme Management Boards of the our Challenge Fund programmes in Kenya (AgriFI) and Zambia (EZCF).
Prior to joining Self Help Africa he worked as Head of Internal Audit and subsequently CFO in GOAL.
He also undertook interim country management roles in GOAL including Malawi, Zimbabwe, Sierra Leone and Afghanistan.
In a voluntary capacity he has been Chairman of Show Racism the Red Card, Director/Treasurer of Carmichael and Finance and Audit Committee member of Clúid.
He currently serves as Treasurer of Dóchas, the Irish Association for Non-Governmental Development Organisations. Peter has also worked in senior financial management roles in FTI and ESB International.
Peter holds a BA in Accounting and Finance from Dublin City University.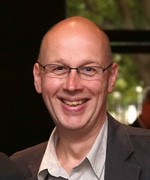 GEORGE JACOB
HEAD OF COMMUNICATIONS
---
George Jacob has worked with Self Help Africa since 2003.
He studied journalism, and worked for more than 20 years in print media, including as chief reporter, news editor and assistant group editor with Ireland's largest regional newspaper group.
He was responsible for overseeing the creation and roll-out of the 'Self Help Africa' brand in 2008, and since then has overseen the development of an in-house communications team that produces and manages all media outreach, print, web and digital media across the group. In the past decade the communications team has produced award-winning websites, annual reports and other materials.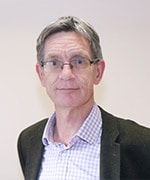 ---
DAVID DALTON
EXECUTIVE DIRECTOR
---
David is the Executive Director, responsible for day-to-day operations and management of the organisation.
After working in the commercial sector in IT and the hotel industry, David worked in Ethiopia with GOAL as Assistant Country Director in the mid-90s and later headed the organisation's Human Resources department overseeing a staff of over 1,500 employees.
David then took on the role of CEO of Plan Ireland, an international children's organisation and part of the Plan international federation, for more than nine years. He grew the organisation substantially and became a member of Plan's Global Leadership Team.
David joined Self Help Africa as Executive Director in November 2016. David holds a Business Degree from the National University of Ireland, Galway as well as a Master's Degree in Development Studies from University College, Dublin. He has also served as a board member of NGOs Dóchas and Comhlámh.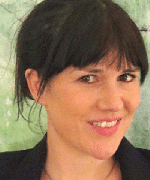 ---
MARTHA HOURICAN
HEAD OF BUSINESS DEVELOPMENT
---
Martha is from Dublin but grew up in Brussels and has spent most of her adult life in New York. She spent several years in Sri Lanka and Guatemala, where she worked in overseas development.
In late 2009, Martha became Director of Business Development for Self Help Africa in the US and oversaw the successful establishment of the organisation in New York and Boston. In six years she grew the organisation's US public funding, raising $11m between 2010 and 2015.
She is responsible for developing and implementing a fundraising strategy, overseeing a fundraising team, donor database and all fundraising activities in Ireland and the UK.
Martha graduated with a BA in History from Trinity College Dublin, and an MA in Development studies from University College Dublin. She is the recipient of the 40 under 40 Irish American Award from the Irish Echo in 2013.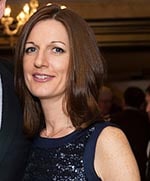 ---
ORLA KILCULLEN
PROGRAMMES DIRECTOR
---
Orla has 16 years professional experience in project management, including 12 years in emergency and development in South America, Asia and Africa. She has provided project management support in the successful implementation of a varied portfolio of programmes, covering agricultural production, natural resource management, nutrition, community mobilization, value-chains, post-harvest technology, construction and support to people with disabilities as well as in the private sector across mobile telecommunications projects. Orla joined Self Help Africa in 2010 and has held a number of roles, becoming Programmes Director in October 2015 with overall responsibility for the strategic direction and management of SHA country programmes.
Orla holds a Post-Graduate Diploma in Development Management.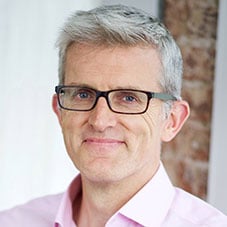 ---
WILL GALVIN
US DIRECTOR
---
Will Galvin has been Executive Vice President of Self Help Africa since 2009, providing strategic direction for the organization generally but with a particular focus on innovative partnerships between farming communities in sub-Saharan Africa and the private sector.

Prior to joining Self Help Africa, Will enjoyed careers as a trial lawyer and as a journalist, both based in Ireland, and as an emergency humanitarian worker, spending time in over 10 countries across Africa and Asia.
He holds primary and masters degrees from Trinity College Dublin and a degree of Barrister At Law from the Kings Inns, Dublin. He now lives in New York City.