Poverty remains widespread in Guinea. Despite the country being rich in subsoil natural resources, around 43 per cent of its population are believed to be living below the international poverty line. Despite this, Guinea receives less overseas development assistance than many other African countries.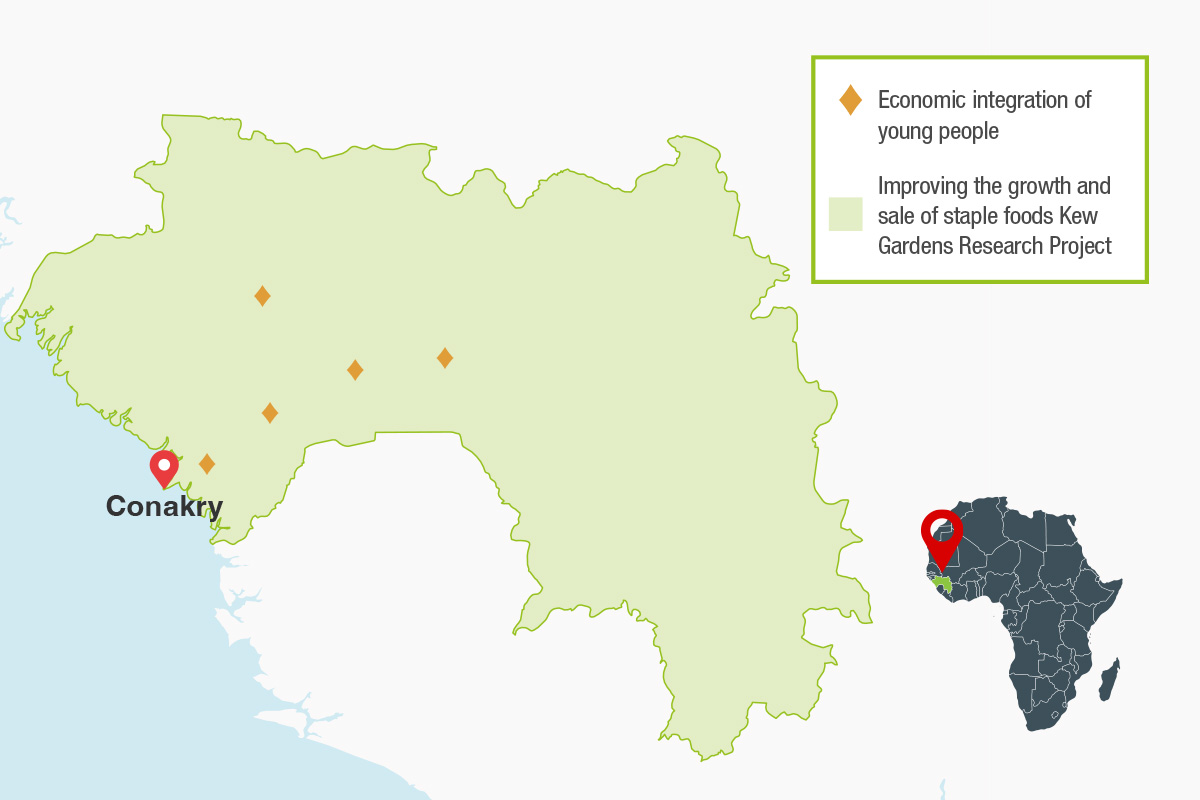 Population: 13.9 million (UNFPA, 2022) 
Life expectancy: 62 years (men), 63 years (women) [UNFPA 2022] 
Capital: Conakry 
Area: 245,857 km² 
Major languages: Pular (or Fula), Maninka, Susu, Kissi, Kpelle and Toma. Official language French. 
Major religions: Predominantly Islam (approx. 85 per cent), Christian (eight per cent) 
Human Development Index: 182 / 191  
Most people in Guinea live in rural areas and are heavily dependent on agriculture and livestock breeding. One in five don't have enough nutritious food to eat and are severely prohibited by poor health and hygiene. 
 
United Purpose's work in Guinea has traditionally focused on improving people's access to education, food, clean water, decent toilets and good handwashing practices – expertise and experience that meant we were well placed to take a key role in supporting the nation's Ebola and Covid19 response.  
 
The organisation has also worked with communities in Guinea to develop their skills to feed their families nutritious local food. We have also supported communities' preparation for future extreme weather events caused by climate change. 
---
---
'Enabel' Literacy and Socio-economic Integration of Young Migrants project (Enabel Alphabisation et Formation Insertion Socio-Economique)
---
Many young Guineans leave the country with the aim of reaching Europe. This irregular migration is dangerous, causing some to fall victim to traffickers and others to die or become stranded along migration routes.  
'Enabel' is addressing these issues,  improving the employability of around 53,000 out-of-school youth through running accessible literacy and socio-economic classes in Conakry, Cojah Kindia, Mamou, Dabola , Pita and Labé.  
We are also tailoring training modules to young people who are interested in paid employment and those who are interested in self-employment. Practical initiatives include helping youth write cover letters and CVs, as well as supporting future entrepreneurs with their business plans. 
---
---
KEW GARDENS RESEARCH PROJECT
---
In 2017, we proudly joined The Global Challenges Research Fund (GCRF) Underutilised Plants of Tropical Africa Hub. https://www.ukri.org/what-we-do/our-main-funds-and-areas-of-support/browse-our-areas-of-investment-and-support/global-challenges-research-fund/ 
 
Our research project with Kew Gardens, in England, explores the potential of plant bioresources as nature-based solutions in African biodiversity hotspots like Guinea. 
 
The project is accelerating efforts to identify and characterise high-value plant biodiversity hotspots in Guinea and pathways to develop bioresources within them. We aim to demonstrate both the economic and ecosystem service benefits of plant bioresources in the local community and nationally. The project will also develop forums in the UK and Africa for research and development and knowledge sharing.  
The GCRFGCRF is a UK government fund that finances pioneering research for tackling challenges in developing countries. This project has created opportunities for economically disadvantaged communities to improve their lives by protecting plant diversity against agricultural clearance, through a collaborative interdisciplinary research and training programme. Against this backdrop, the Guinea office has carried out a study on the importance of Neocarya in protecting and preserving the environment in the prefectures and towns of Koundara, Gaoual, Labé and Conakry.
---
TO CONTACT US ABOUT OUR WORK IN Guinea:
---